Objects
Viewing Record 29 of 45
Previous Record
Next Record
Switch Views:
Lightbox
|
Image List
|
List
Optrex Eye Lotion wth Eye Bath
EYEBATHS AND OPTICAL HYGIENE
eyebath; bottle; eye lotion
Optrex Ltd
Europe: United Kingdom, England, Hampshire, Basingstoke
Early 1980s
cardboard; glass; plastic; paper
bottle: 123 mm x 58 mm x 36 mm; diameter of base: 27 mm; eyebath: 34 mm x 49 mm x 30 mm; outer packaging: 130 mm x 61 mm x 40 mm
Brown glass bottle originally for eye lotion (empty), with white plastic ribbed screw lid and paper label printed in dark blue. 110ml. For use with light brown transparent plastic simple squat-type eyebath (supplied). Outer cardboard packaging printed in blue and turquoise, together with patient leaflet.
2016.850
Transferred from the Museum of London, 2015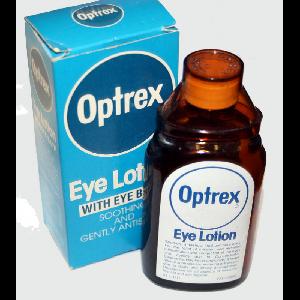 Related Media
Related Objects