Objects
Viewing Record 10 of 15
Previous Record
Next Record
Switch Views:
Lightbox
|
Image List
|
List
Gallery monocle with retractable spring cord
MONOCLES AND SINGLE MOUNTED LENSES
monocle; ear chain
Ketcham & McDougall
Europe: United Kingdom; North America: USA, New York
Post 1910
rolled gold; xylonite; glass; bakelite; metal
eye: 40 mm; fob: 25 mm
Monocle. Gold-filled frame with inner two-part gallery, rim covered with xylonite imitation tortoiseshell. Small round handle with metal sprung cord, retracting into round bakelite fob with pin fastener. Round eye rim, glazed with a prescription lens.
2015.231
Gift of Mr Rian Love/OATS/City University, 2015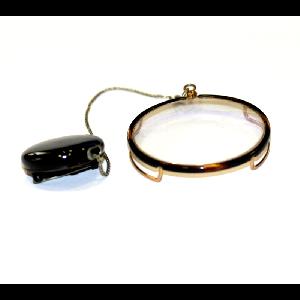 Related Media