Objects
Viewing Record 1 of 1
Switch Views:
Lightbox
|
Image List
|
List
Display of Norlite Lens Forms
OPHTHALMIC LENSES
lenses display
Norville Optical Company Limited
Europe: United Kingdom, England, Gloucestershire, Gloucester
1980s?
wood; glass; metal; plastic
case: 338 x 450 x 38 mm
Framed wooden display box containing eighteen sample prescription lenses in imitation tortoiseshell mounts, arranged decoratively against a green background: Convex Lenticular, Aspheric Lenticular, Oval Aspheric Lenticular, Aspheric Lenticular Bifocal, 22 Bifocal, 28 Bifocal, 38 Bifocal, Norlite S.25 Bifocal, S.22 Aspheric Lenticular Bifocal, S.28 Bifocal, Executive Bifocal, Varilux 2 Orma, Minus 16.00 Sphere, Concentric Trifocal, S.725 Trifocal, SE 825 Trifocal, Plus 16.00 Sphere. Box glazed and with metal corner reinforcements.
2006.395
Gift of Norville Optical Group, 2006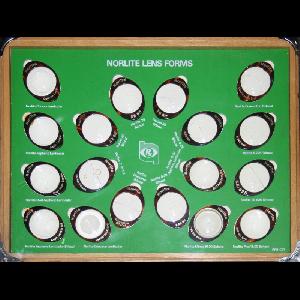 Related Media