Objects
Viewing Record 78 of 286
Previous Record
Next Record
Switch Views:
Lightbox
|
Image List
|
List
Frames & Mountings Export Price List
ARCHIVAL ITEMS
catalogue; price list
Bausch & Lomb Optical Company Ltd
North America: USA, New York, Rochester
1942-03-01
paper
overall: 279 mm x 216 mm
Catalogue and export price list for an American brand of spectacle frames A4 format printed in black, white and red on 68 pages, with soft end covers, stapled. Includes information on frame markings and specifications for Numont Ful-Vue in Loxit mountings (Arnett, Willoby, Benton, Stratford, Aristocrat, Dewey, Alden, Highland), Numont Ful-Vue in Flex-Shu mountings, Flow line temples for Rimway Ful-Vue Balcrest mountings, assembly kits, rimless mountings (Regular Clingswell, Hy Clingswell, Gothic Clingswell, Berwyn Clingswell, also Stratford, Pelham, Westfield, Colton, Plymouth, Wilshire, Highland, Arnett, Berwyn, Benton, Willoby), gold-filled frames (inc. Manley, Charlton, Chatham, Argyle, Rodeo, Balbar), Nicaloy frames, temples, Zylonite frames (inc. Memphis, Melrose, Sagamore), springs studs and guards, pads and pad extras, list of products, list of branch offices and index. Also a pink sheet of corrections and changes (dated September 1945).
2003.517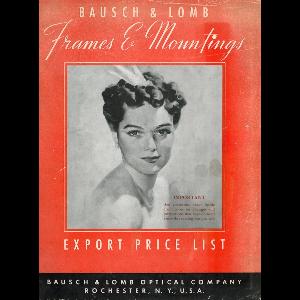 Related Media