Objects
Viewing Record 24 of 70
Previous Record
Next Record
Switch Views:
Lightbox
|
Image List
|
List
Contact Lens Computer
ARCHIVAL ITEMS
selection chart
The Plastic Contact Lens Company
North America: USA, Illinois, Chicago
Mid 20th c.
plastic
overall: 206 mm x 53 mm
'Slide-rule' type calculating chart. Obverse = fitting guide and pupil gauge; Reverse = vertex distance and computed power. White inner card. Light green outer sheath overprinted in dark blue.
2014.282
Gift of Mrs Paula Chabrel, 2014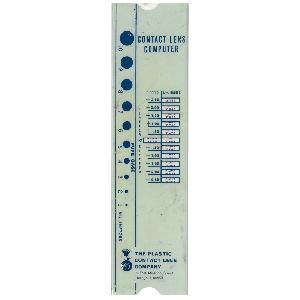 Related Media