Objects
Original Pilot Sunglasses (OPS)
SPECTACLES
sunglasses
AO Eyewear Inc.
North America: USA, Massachusetts, Southbridge
June 2011
metal; vinyl; card
DBL: 20 mm; case: 68 mm x 162 mm x 25 mm; eye: 52 mm; outer box: 50 mm x 165 mm x 67 mm; side: 140 mm
Sunglasses. Yellow metal aviator style. Flat pad bridge with browbar. High joints. Flat-section skull-grip sides ('bayonet temples') with half-length transparent plastic end covers. Branded tinted lenses. Together with branded dark grey vinyl flap case and original card retail supply box with warranty card.
2011.202
Gift of AO Eyewear Inc. via Mr Alan McKinley, 2011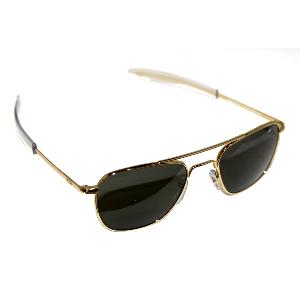 Related Media
Related Objects