Objects
Viewing Record 73 of 280
Previous Record
Next Record
Switch Views:
Lightbox
|
Image List
|
List
Fincham Plastic Artificial Eye Fitting Set
ARTIFICIAL EYES AND PROSTHESES
fitting set
Clement Clarke Ltd
Europe: United Kingdom, England, London
c.1941
plastic; wood; leather; metal
case: 40 x 200 x 108 mm
Fitting set comprising twelve plastic fitting shells, lettered and numbered, divided 6 for right eyes and 6 for left eyes, twenty iris 'buttons' in various colours, numbered on their reverse side, also four sclera strips (one pink for special cases, the other three showing differing grades of veining). Missing its rubber suction holder. All within a black leatherette-covered wooden hinged case with a yellow metal clasp.
2013.756
The Norman Bier Collection, transfer from City University, 2013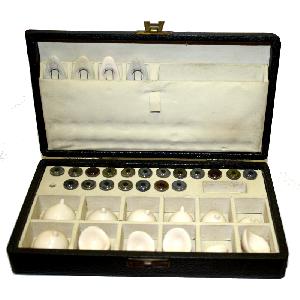 Related Objects