Objects
Viewing Record 68 of 724
Previous Record
Next Record
Switch Views:
Lightbox
|
Image List
|
List
Autoflow
ARCHIVAL ITEMS
catalogue; leaflet
Autoflow Sales Limited
Europe: United Kingdom, England, Warwickshire, Rugby
c.1984
paper; card
overall: 316 x 226 mm
Wallet folder containing leaflets concerning ophthalmic prescription machinery and optical equipment including: Labtrak data storage and tracking system, 300 series blocker, 501 Automatic Layout Marker, Anthony Newbold Dioptrescope, 3409 Ultrasonic De-Blocker, Type 200 Sphere Rx Generator, CN Sagometer Gauge Set, Blocked Lens Thickness Indicator, Substance Gauges, 5024 Toric Lap Cutting and Truing Machine, Direct Drive Rotary Vane Pumps, GST Rotary Vane Vacuum Pumps, Bambi Compressors, FSP Coolant Clarifier, Coanda Diamond Wheels, 3214 High Capacity Pump, 315 Toric Lap Cutter, 3306 Autosphere Smoothing and Polishing Machine, BMR Series Precision Surfacing Machines, Abwood SG4G Precision Surface Grinders, 124A Spherical Generator, TSP 40 Twin Spindle Toric Surfacer, TSP 75-4 Four Spindle Toric Surfacer, Seriesline Toric Lens Generator, 3351 Four Spindle Spherical Lens Surfacing Machine, 124T Tray Feed Spherical Generator, Labcalc Lens Computing System, Betasystem Extended Functions Control Computer, Reclaim Tanks for Lens De-blocking, Radmaster Toric Rx Generator, Hyaline Toric Lens Generator, 2046 Standard Poker Arm Machine, Frame Heater Model 5000, Automatic Frame Heater Model 3366. Plus a leaflet on the Autoflow Spectrum range of colour dyes, a 'Newsletter' describing the New Supermatic 4000 Generator and three coloured sheets of paper providng an index to the leaflets. A4 format, printed in black on mainly cream-coloured paper.
2006.678
Gift of Norville Optical Group, 2006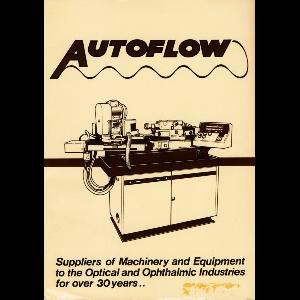 Related Objects