Objects
Viewing Record 5 of 39
Previous Record
Next Record
Switch Views:
Lightbox
|
Image List
|
List
AO 12620 Digital Lensometer
OPTOMETRIC INSTRUMENTS
focimeter
American Optical
North America: USA, New York, Buffalo
October 1977
metal; plastic; glass
overall (base): 177 mm x 476 mm
Electronic focimeter. Black-painted metal. Rectangular base with control switch unit at front. Adjustable angled stem with knurled cylinder and flashing digital display unit. Adjustable eyepiece with green swing-out filter and auxiliary prism holder and tension lock holder. Spectacle support/lens table. Black dual knurled focusing wheel. Lever-controlled 'Reddimark' ink lens marker. Removable bulb unit. Black rubber electrical flex with 3-pin plug.
2015.347
Gift of Mr Rian Love/OATS/City University, 2015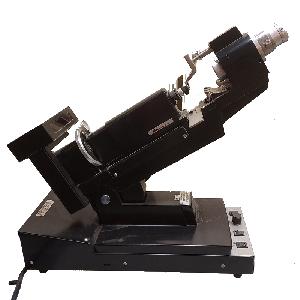 Related Objects