Objects
Viewing Record 73 of 286
Previous Record
Next Record
Switch Views:
Lightbox
|
Image List
|
List
Frame Price Chart 1968
ARCHIVAL ITEMS
catalogue; price list
Birch-Stigmat Group
Europe: United Kingdom, England, Kent, Tunbridge Wells
December 1967
card
overall: 310 mm x 543 mm
Catalogue and price list VA2 for a spectacle frame manufacturer. Landscape format printed in black on three panels of laminated white card, folded. Includes an image of forty one 'acrilite' and Perspex plastic frames with colour options and price alternatives for aluminium sides. Featured models: Baby Doll, Baby Doll Fiesta, Bold Type, Bravado, Candida, Candi-Doll, Smoke-Base Candi-Doll, Captain, Celeste, Chiquita, Comstyle, Crown Princess, Fontana, Gay Dog, Golden Girl, Lady-in-Ermine, Lady in Mink, Mary Jane, Mirage, Mischief, Mischief Fiesta, Mishka, Naughty, New China Doll, New Mirage, Petrouchka, Pollyanna, Portrait, Pygmalion, Queen of Clubs, Quiltie, Satin Doll, Sebina, Secret Deep Eye, Secret Shallow Eye, Sherry Doll, Slender Look, Super Girl, Su-Yan, Sweet Sue, Tenderly. Also Michael Birch Polarised Sunglasses: P1 to P6.
2017.186/62
Gift of Mrs Janet Birch, 2017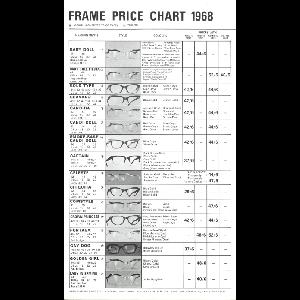 Related Media