Objects
Viewing Record 43 of 49
Previous Record
Next Record
Switch Views:
Lightbox
|
Image List
|
List
The Jones Scotometer & instruction booklet
OPTOMETRIC INSTRUMENTS
visual field test
J. & H. Taylor (Lond.) Ltd; J. & H. Taylor
Europe: United Kingdom, England, London
Post 1923
plastic; paper
1) Transparent plastic oval device marked with a red outline of the blind spot, outline of Bjerrum's sign, horizontal axis marks and a 2mm white square within the innermost oval. 2) Printed instruction booklet including diagrams.
1999.3266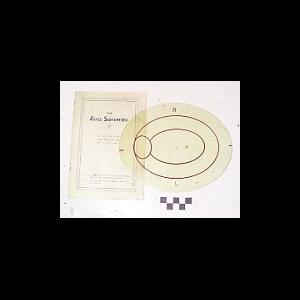 Related Objects