Objects
3D System Magicard
ORTHOPTIC INSTRUMENTS
stereoscope
Magicard S.A.
Europe: Czech Republic; Europe: United Kingdom
2016
card; plastic; photographic paper
overall: 90 mm x 148 mm
Stereoscope intended for viewing stereo photographs. Light yellow cardboard folding construction, with two round plastic lenses, the front panel printed with a retro Victorian-style decorative image of woman in a hat. The photographs depict the bust of J. H. Sutcliffe and a perimeter on display in the Sutcliffe Room of the British Optical Association Museum at the College of Optometrists.
2016.444
Gift of Dr Jennifer Jewitt-Harris, 2016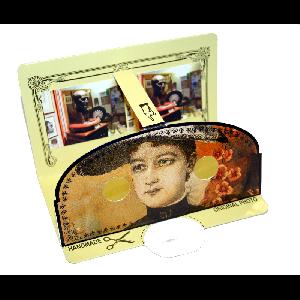 Related Media
Related Objects