Objects
A Grand Spectacle - A View in Fleet St
PRINTS AND DRAWINGS
print
Butler, A.
Europe: United Kingdom, England, London
1837-11-09
paper
overall: 192 x 278 mm
Monochrome print (lithograph) depicting the optician's shop of Francis West, 83 Fleet Street, bedecked to mark the visit of Queen Victoria to the City of London. Includes an illuminated spectacle sign and the spire of St. Martin's in the background. In a modern traditional style black wooden frame, glazed.
2006.173
College Purchase, 2006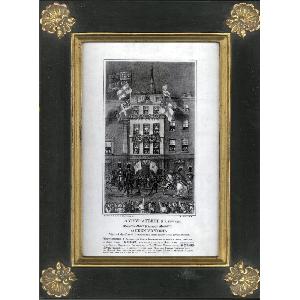 Related Media
Related Objects